BARCLAYS BANK and SANTANDER BANK accounts CLOSED. See RED TEXT ABOVE for world wide BANK TRANSFERS, PayPal also available. Contact on .......WhatsApp on 0066 823715197
Country: Barbados

Clear


Subject: All

Sort: Newest listed first
COLLECT BARBADOS BOOTHEELS
These bootheel cancels, issued in 1863, offer a spectacularly colourful display when collected on the Britannia issues. The "2" and the "9" are the most elusive, and "10" and "11" the commonest. There are many stamp/bootheel combinations, and many rarities. Fun for many years!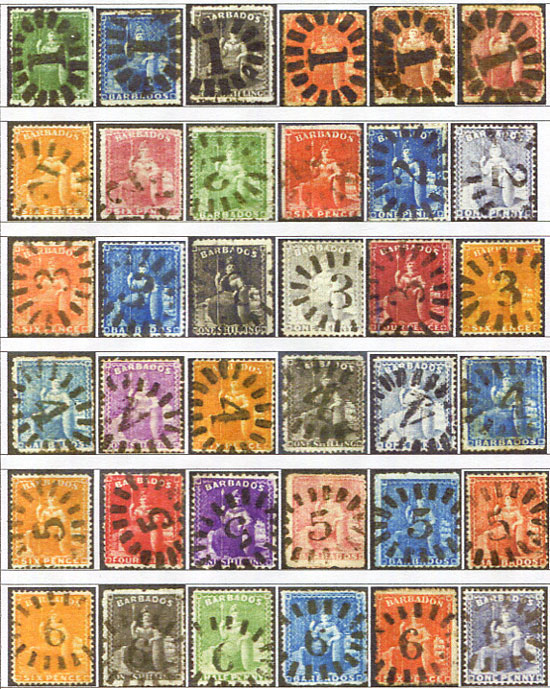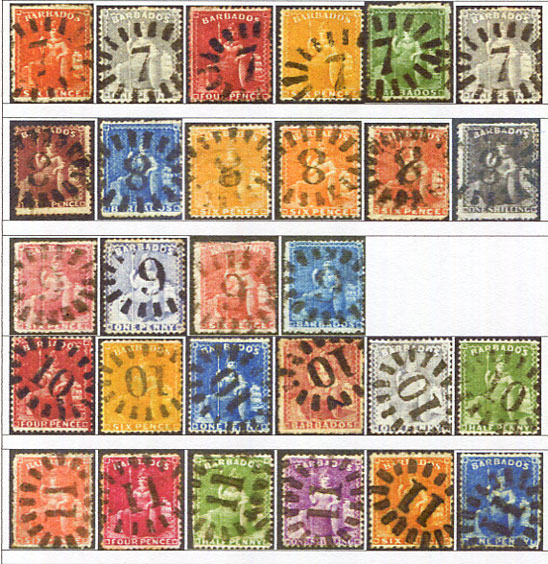 ENVELOPES - "USED ABROAD"
(3 May 2020) These colourful illustrated items are infrequently met and add both character and appeal to album pages. The 1904 cover used from Barbados shows the Toronto Lith Company factory, and the 1972 cover from Mustique came by way of holiday maker previously at the Hotel Abacoa, St. Andres, Isla, Colombia.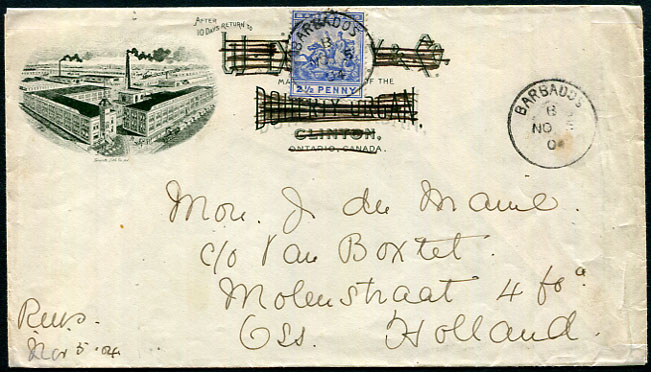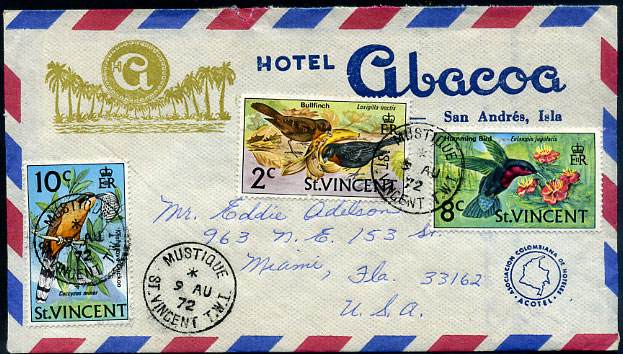 BARBADOS - The September 11th 1898 hurricane
(3 May 2020) Great damage was caused to both the islands of Barbados and St. Vincent on SP 11 98. The chart below shows the earliest strikes known for each Parish office after that date. St. Lucy shows a large "unknown" period which hopefully you can help close by sending scans of dated copies.

TRANSATLANTIC "BOTH WAYS" MAIL
(25 April 2020) Mail which has travelled across the Atlantic and cannot be delivered is found with "Unclaimed", "Deceased", "Left the Island" etc handstamps or manuscript endorsements and assumed to be returned to sender, when known, free of further charge. Mail which has crossed "both ways" falls into two groups. Unpaid mail, as a result of the Act of 1847 made it compulsory for the sender to pay postage on returned unpaid letters, and short-lived handstamps surmounted by a Crown and inscribed "The Party to whom this letter/is addressed has not Called for it/(date)" were applied at London, Edinburgh, or Dublin. The second group is prepaid additional postage adhesive mail, with illustrations from Barbados (JU 9 1860), and Trinidad (MR 8 1864).