BARCLAYS BANK and SANTANDER BANK accounts CLOSED. See RED TEXT ABOVE for world wide BANK TRANSFERS, PayPal also available. Contact on .......WhatsApp on 0066 823715197
Country: Bermuda

Clear


Subject: All

Sort: Newest listed first
BERMUDA – The GEOFF OSBORN "K3a" NUMERALS EXHIBITION PAGE
(30 April 2020) Specialised collectors love to own the most important auction catalogues for their collecting areas. When it comes to the cancellations maybe a few items will get illustrated allowing provenance to be attributed when owned and included by you. Few records have survived showing the complete postmarks pages as owned by these famous collectors. The Osborn K3a page is now shared with all for the first time.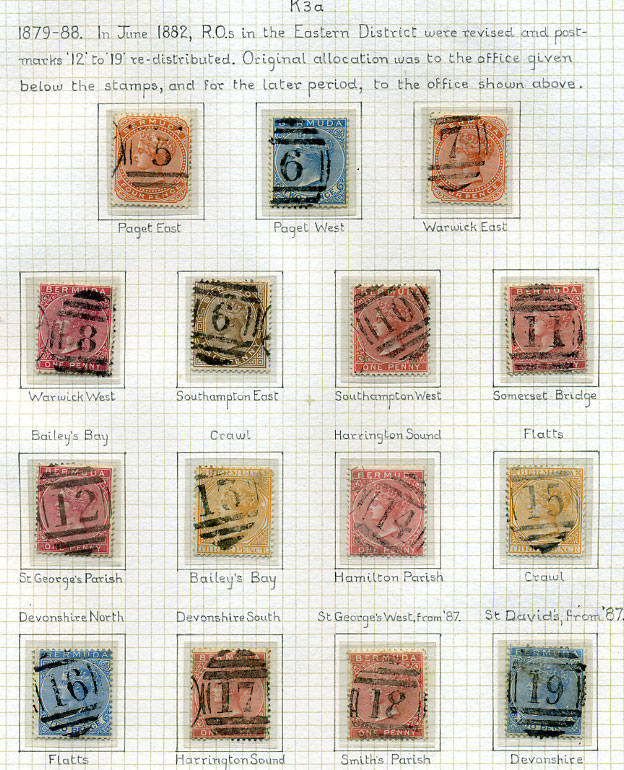 BERMUDA – St. George's K3 "2" HANDSTAMP I and HANDSTAMP II on the same stamp
(25 April 2020) This newly discovered unique example of the two different K3 "2" duplex obliterators on 1880 QV 4d orange-red Crown CC wmk (SG.20) will challenge the thoughts of every specialised Bermuda collector who imagined that all there is to know about the numerals had already been written. There is undoubtedly a story to be told and only a careful watch of covers and dated stamps might eventually reveal its secrets. The enlarged illustration shows the differing measurements between the top of the tail of "2" to vertical inner bar at right as 4.75mm (handstamp I) and 3.75mm (handstamp II). A clearer test is that the upright serif of the "2" in handstamp II sticks out further to right than top right side curve of the "2". The current recorded period of the short-lived handstamp II is OC 21 1880 to DE 22 1880 but Ludington Page 139 recorded a second period of use with a single date of AP 14 1889 (not seen by me, and after the K4 series was issued on JA 1 1889). Ludington records use of the handstamp I from JU 3 1879 to AU 9 1888 with alternating bands of both black and blue ink. The established period for handstamp II (only found in black) is flanked by black ink periods of use of handstamp I for JU 25 1880 to OC xx 1880 and MR 2 1881 to MR 20 1882 as gleaned from covers, but there has been no study of "loose" dated stamps to determine whether handstamp I was also being used during the OC 21 1880 to DE 22 1880 handstamp II period.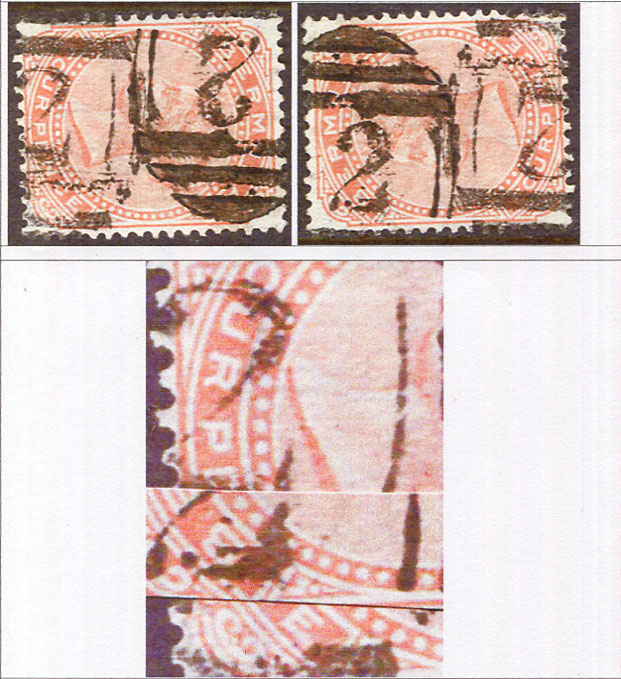 BERMUDA - ARTICLE PUBLISHED IN THE BWISC JOURNAL
Whilst preparing this for inclusion in my BLOGS section, as there must be many collectors who have not joined the British West Indies Study Circle (details on their website), I am reminded that there are many collectors who would just love to see a breakdown for the K1 numeral combinations!! Watch this space!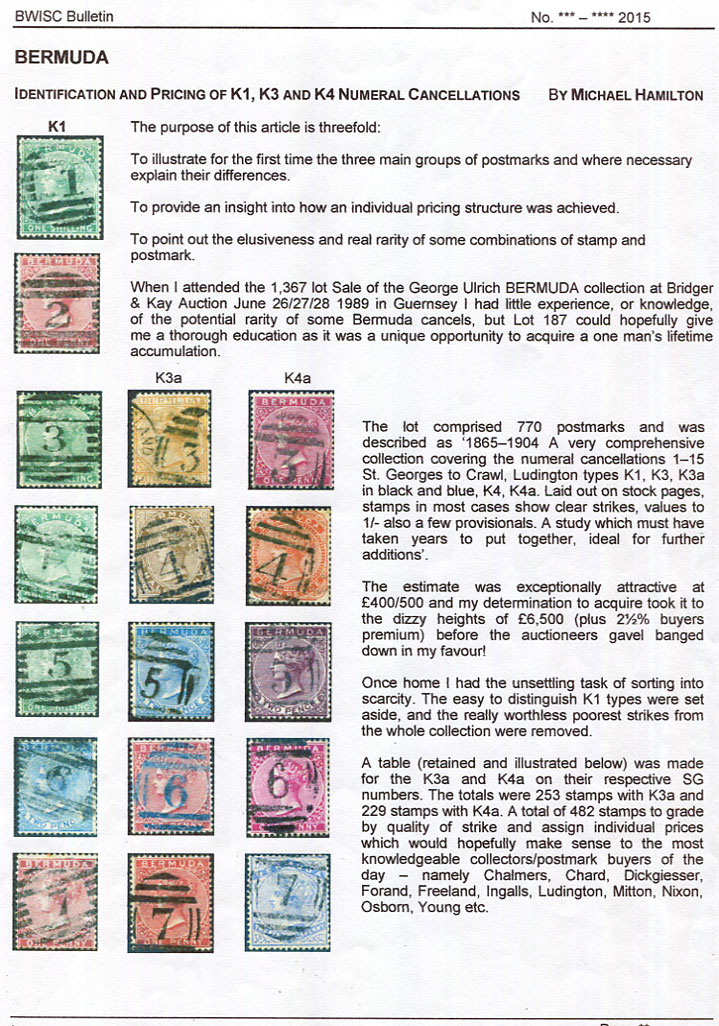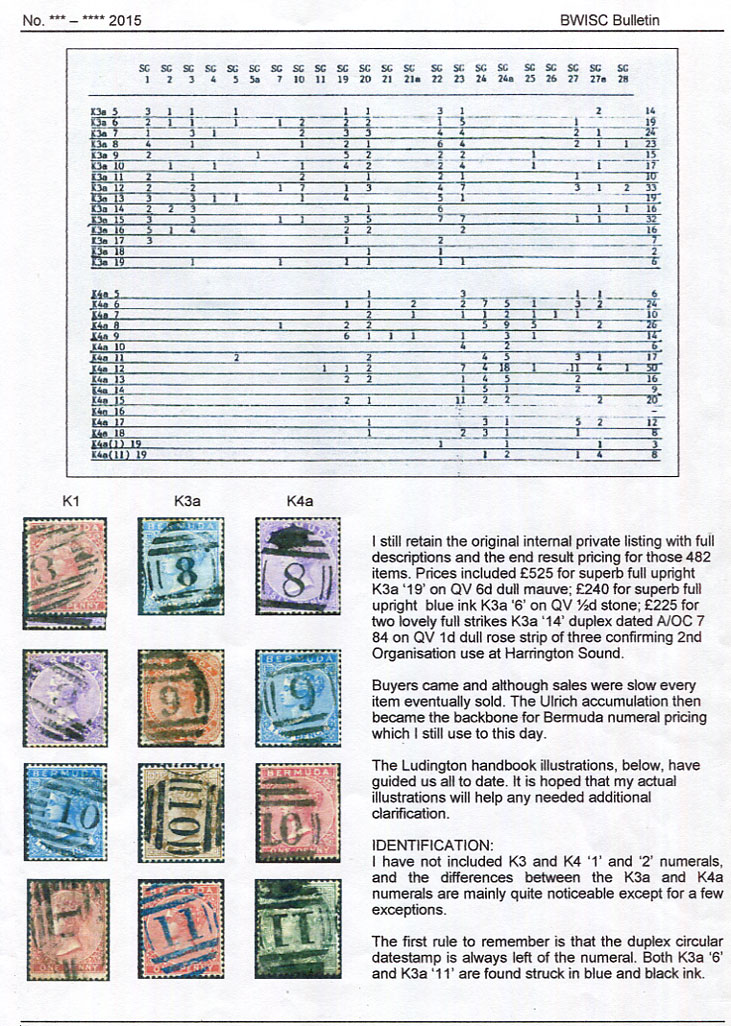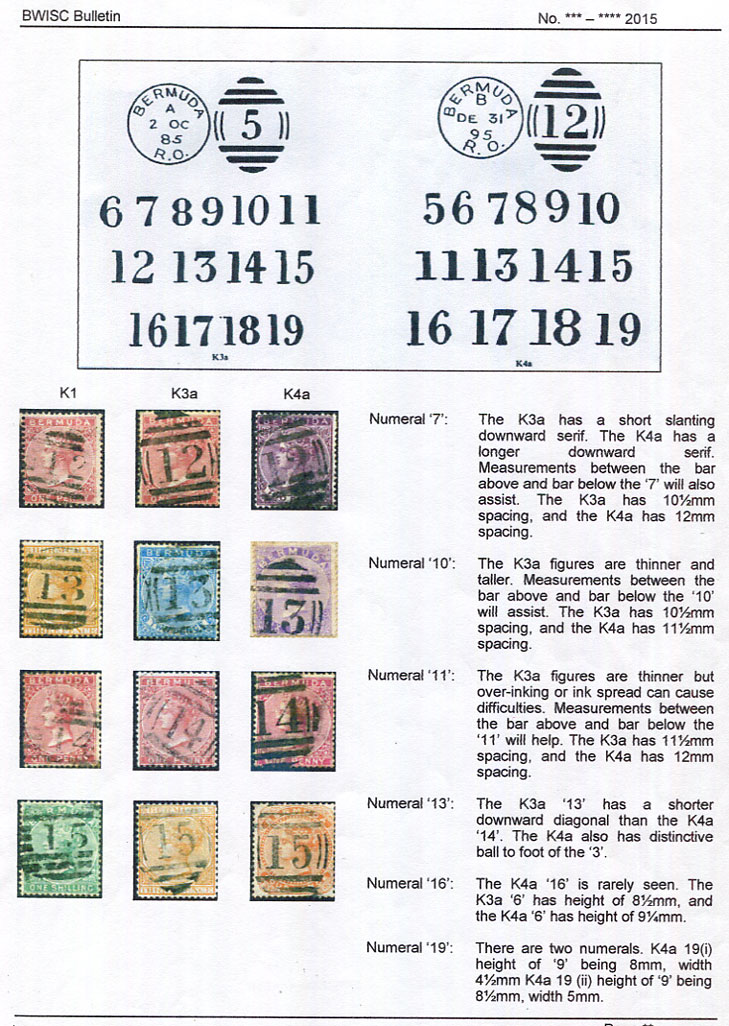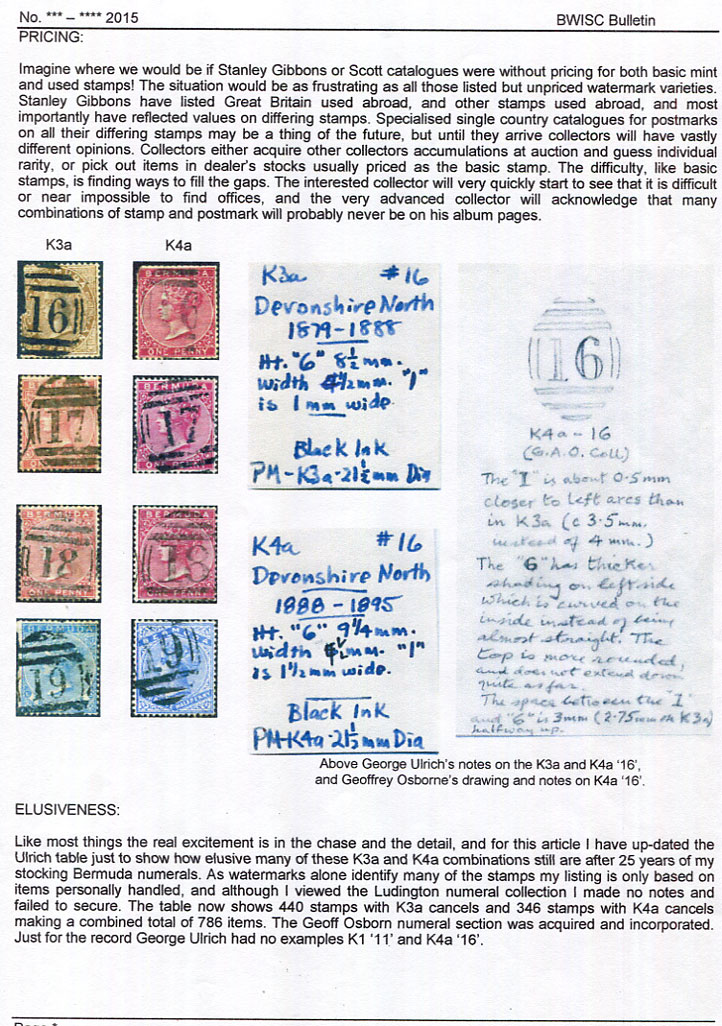 BERMUDA - THE MICHAEL HAMILTON COUNTS FOR THE K3A and K4A NUMERALS
Despite the opening K5a 5 typo this chart was prepared and recently published in the BWISC Bulletin. Counts of 442 different combinations for K3a 5-19 and 347 different combinations for K4a 5-19 embrace both the Ulrich collection and all other items personally handled by me over the years. This chart does not include items in the David Pitts collection.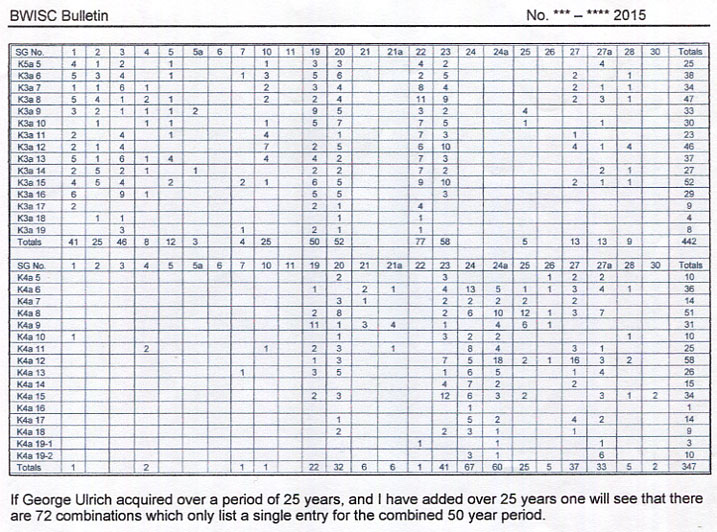 BERMUDA - THE GEORGE ULRICH COUNTS FOR THE K3A and K4A NUMERALS
The George Ulrich of Bermuda was broken down into 1,367 lots and came under the hammer June 26/27/28 1989 in Guernsey, Channel Islands and was offered by Bridger & Kay auctioneers. I attended and was determined to acquire his numerals offered at the attractive estimate of £400/500 not expecting to secure them at £6,500 plus 2½% buyers premium. Previous to that sale I had zero experience at selling Bermuda numerals and no clues as to their individual value! Having taken out the commoner K3 1-4 and K4 1-4 I first set about drawing up a chart of the holding (as illustrated below) to establish individual scarcity and then set about the daunting task of pricing them. Over the years they all sold!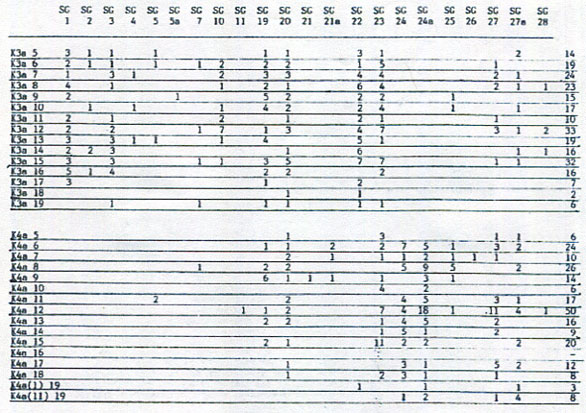 BERMUDA - THE DAVID R. PITTS COUNTS FOR THE K3/K3A and K4/K4A NUMERALS
Some collectors will go far beyond the extra mile to record what is absolutely essential information for future students, and in 1998 David most kindly and thoughtfully published an exceptional lengthy colour illustrated booklet entitled "A Beginning Collection of Bar and Duplex Cancels on the Victorian Stamps of Bermuda" based on his own collecting activities. Charts were prepared detailing breakdowns of the combinations presumed only in his collection. Unlike the charts I have prepared these swell the combinations as the K3 1-4 numerals and K4 1-4 numerals are included. As I meticulously describe each numeral I handle I cannot embrace counts of items in other peoples collections as this could include, in haste, wrong descriptions, my inability to see watermarks, and may include items sold to that collector.