BARCLAYS BANK and SANTANDER BANK accounts CLOSED. See RED TEXT ABOVE for world wide BANK TRANSFERS, PayPal also available. Contact on .......WhatsApp on 0066 823715197
Country: Denmark

Clear


Subject: All

Sort: Newest listed first
ST. VINCENT - The PAID AT ST. VINCENT Crowned Circle
(28 April 2020) During the Napoleonic wars correspondence was almost exclusively sent unpaid in duplicate or triplicate by different vessels in the hope that one entire would reach its destination. The contents of each incoming or outgoing letter were entered into Copy Books keeping a complete record of transmissions should loss occur. After the war mail continued to be sent mostly unpaid but with confidence growing in the safety of the seas and some writers using courtesy prepayment the Crowned Circle PAID AT handstamp was introduced having been proofed at the GPO, London on JA 30 1852. Prepayment to foreign ports was already established. Over the period JU 4 1852 to JU 6 1866 some 59 covers are currently recorded with the PAID AT ST. VINCENT mark showing varying uses. The strikes are always in red ink with the exception of the unique black strike on cover to Paris dated AU 10 1858. Examples on Perkins Bacon "loose" stamp are rarely found and their use, as such, has no ready explanation. The illustrated example on 1877 QV 6d pale green P.11½ to 12½ x 15 sideways star wmk (SG.23 , invoiced DE 30 1876, Ex Becker collection) shows that the instrument survived the Fire at the Kingstown Post Office on October 29 1866.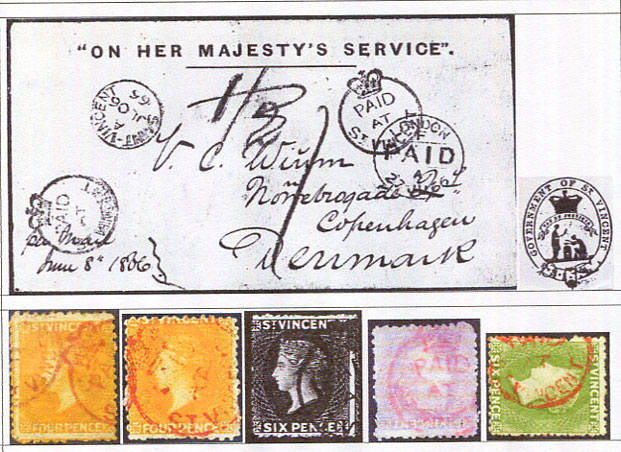 TRANSATLANTIC "BOTH WAYS" MAIL
(25 April 2020) Mail which has travelled across the Atlantic and cannot be delivered is found with "Unclaimed", "Deceased", "Left the Island" etc handstamps or manuscript endorsements and assumed to be returned to sender, when known, free of further charge. Mail which has crossed "both ways" falls into two groups. Unpaid mail, as a result of the Act of 1847 made it compulsory for the sender to pay postage on returned unpaid letters, and short-lived handstamps surmounted by a Crown and inscribed "The Party to whom this letter/is addressed has not Called for it/(date)" were applied at London, Edinburgh, or Dublin. The second group is prepaid additional postage adhesive mail, with illustrations from Barbados (JU 9 1860), and Trinidad (MR 8 1864).