See RED TEXT ABOVE for world wide BANK TRANSFERS by WISE, PayPal also available. Contact on WhatsApp on 0066 0823715197
Country: Panama

Clear


Subject: All

Sort: Newest listed first
TRINIDAD - USED ABROAD
(Updated 27 April 2020 thanks to emails from Ed Barrow and Mike Kitson) It is becoming clear that not only the stamps of Great Britain were used at their postal agencies abroad but a more formal arrangement existed covering mail arrangements to and from those territories in the Caribbean basin. Early Jamaica QV stamps exist pmk'd "C51" (St. Thomas), "D60" and red "D63" (whereabouts unknown), "E88" (Colon) and one 1876 ingoing cover shows a spectacular Cuba 50c, Great Britain 4d. and Jamaica 2d combination.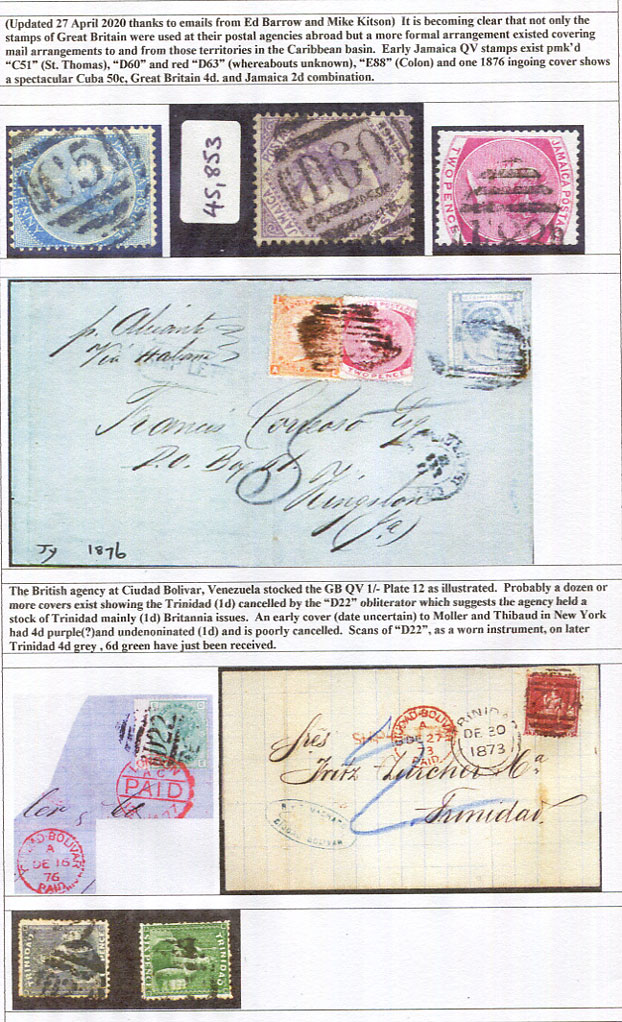 CHATEAUBELAIR, St. Vincent to LAS CASCADAS migrant workers camp, construction of Panama Canal
During the construction of the Panama Canal much of the work was done in the Culebra Cut and many little villages including Las Cascadas were constructed along the west bank to house the thousands of contract workers, mostly from the Caribbean, who built the Culebra Cut, known to them as "Hell's Gorge" in temperatures mostly over 86 degrees Fahrenheit. The Cut was a trench 295 feet wide, 10 storeys deep, with a length of over 130 football fields, over 60 million pounds of dynamite was used. In 1908 Las Cascadas had 2,425 inhabitants - 957 whites, 1,424 blacks and 44 others.