BAHAMAS & BRITISH HONDURAS covers are being added this month. . Bank transfers from UK only customers to Santander Bank. Immediate contact .........................WhatsApp on 044 7541 213769
Country: All
Subject: KGV Head pmks

Clear


Sort: Newest listed first
JAMAICA - SPANISH TOWN RAILWAY
(Updated 26 May 2020) The illustrated JAN 31 1910 and JUN 2 1911 strikes are different. The 1910 has closely set 'IC' and wider 'M' in JAMAICA. The Maltese crosses may be different in format; and whilst the JAMAICA GOV'T. RAILWAY in the 1910 strike has apostrophe and stop in 'GOV'T.' the 1911 may differ in it not having the stop. If you can supply decent full strikes for this period please do so. David Horry has very kindly supplied drawings of the two cancellations (subject clarification on the GOVT portion in the 1911 strike), and an overlay of the two cancels to show their difference.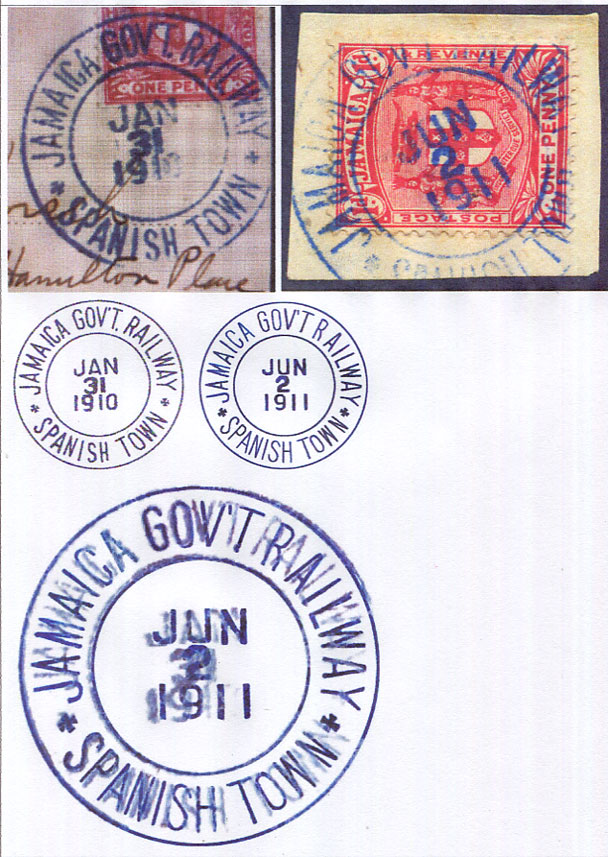 ST. VINCENT PARCEL POST - A NEW DISCOVERY
(29 April 2020) I have not been keeping tabs on the Parcel Post cancels after the QV-KE7 period but Ray Stanton and Roy Bond have kindly furnished me with scans of the strikes listed in the Ted Proud St. Vincent handbook and the recent PML update by Charles Freeland, Roy Bond, Russell Boylan covering the period 1899-1965. Roy confirms that the illustrated KGV 6d, 1/- on piece dated 25 JU 26 has an unrecorded "B" code and will be incorporated in his update within the BWISC Journal in due course.