BAHAMAS & BRITISH HONDURAS covers are being added this month. . Bank transfers from UK only customers to Santander Bank. Immediate contact .........................WhatsApp on 044 7541 213769
Country: All
Subject: QE2 covers

Clear


Sort: Newest listed first
ENVELOPES - "USED ABROAD"
(3 May 2020) These colourful illustrated items are infrequently met and add both character and appeal to album pages. The 1904 cover used from Barbados shows the Toronto Lith Company factory, and the 1972 cover from Mustique came by way of holiday maker previously at the Hotel Abacoa, St. Andres, Isla, Colombia.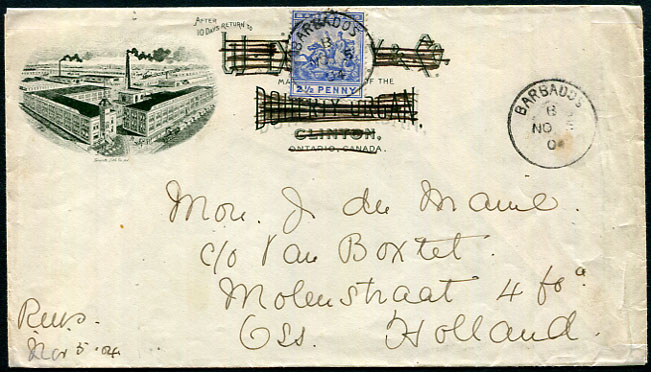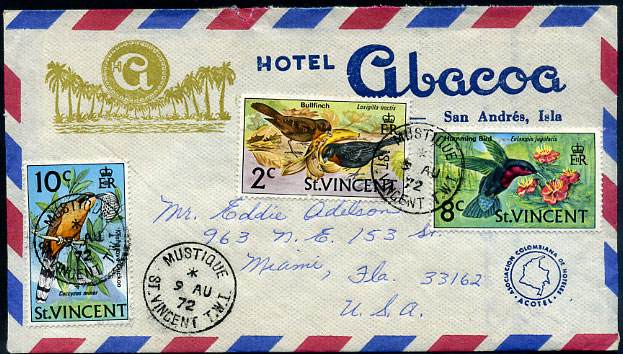 JAMAICA and ANGUILLA - made-to-order messages
(29 April 2020) Collecting made-to-order needs of the moment unusual instructive handstamps must be fun and quite challenging. This Jamaica cover with Hotel Titchfield flag-flying flap to San Antonio, Texas travelled uncancelled until it reached Pasadena, California on MR 9 1912 and the postmaster felt obliged to tell the eventual recipient that his cover was trapped inside a circular during transit. A nice item to include in an Arms display. The Anguilla Valley postmaster, in 1996, before any actual transit to Basseterre, has gone to extraordinary length with a mind-boggling message that the senderís letter is certified to have been received in good condition at his post office! Bad condition yes, but good condition?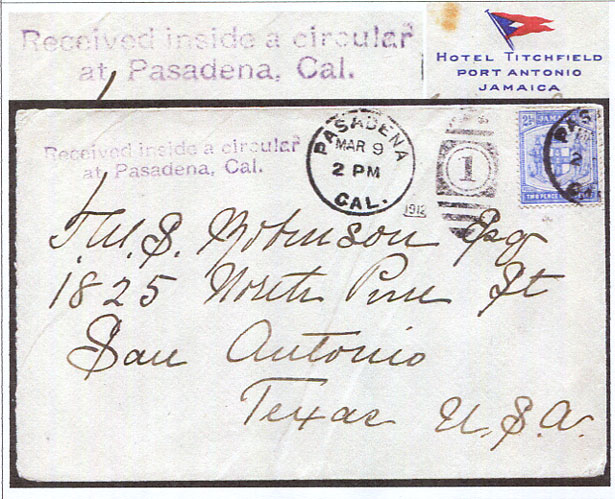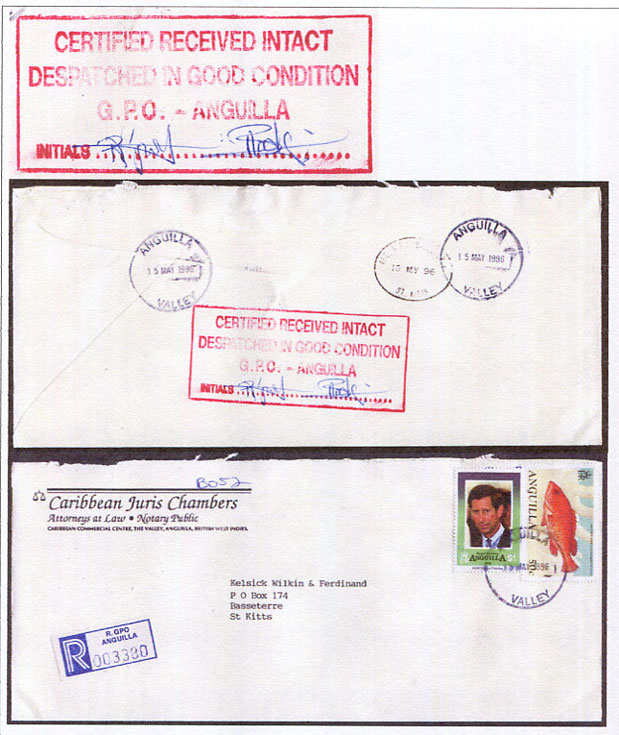 ST. VINCENT: 1971 MUSTIQUE COMPANY labels
My only references to the four labels (produced in orange, blue, yellow, and mauve) comes from an article in the British West Indies Study Circle Bulletin No.72, March 1972), and the pricing of flight covers and printing quantites as listed after St. Vincent Grenadines in the old Urch Harris catalogues. If you have any additional information, or have mint labels, I would be interested in scans etc.