BAHAMAS & BRITISH HONDURAS covers are being added this month. . Bank transfers from UK only customers to Santander Bank. Immediate contact .........................WhatsApp on 044 7541 213769
Country: All
Subject: KE7 covers

Clear


Sort: Newest listed first
ENVELOPES - "USED ABROAD"
(3 May 2020) These colourful illustrated items are infrequently met and add both character and appeal to album pages. The 1904 cover used from Barbados shows the Toronto Lith Company factory, and the 1972 cover from Mustique came by way of holiday maker previously at the Hotel Abacoa, St. Andres, Isla, Colombia.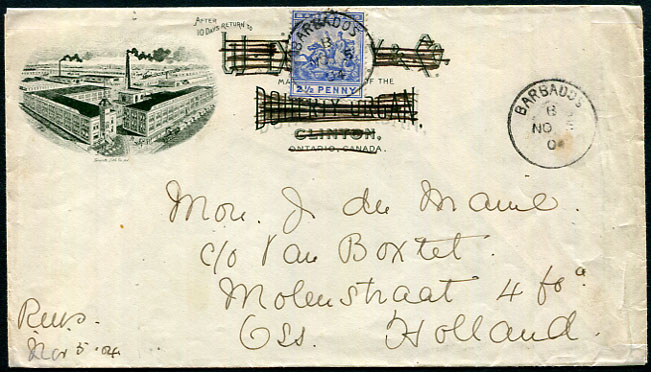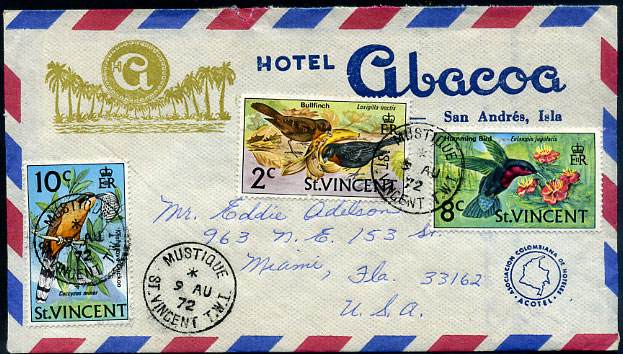 CHATEAUBELAIR, St. Vincent to LAS CASCADAS migrant workers camp, construction of Panama Canal
During the construction of the Panama Canal much of the work was done in the Culebra Cut and many little villages including Las Cascadas were constructed along the west bank to house the thousands of contract workers, mostly from the Caribbean, who built the Culebra Cut, known to them as "Hell's Gorge" in temperatures mostly over 86 degrees Fahrenheit. The Cut was a trench 295 feet wide, 10 storeys deep, with a length of over 130 football fields, over 60 million pounds of dynamite was used. In 1908 Las Cascadas had 2,425 inhabitants - 957 whites, 1,424 blacks and 44 others.